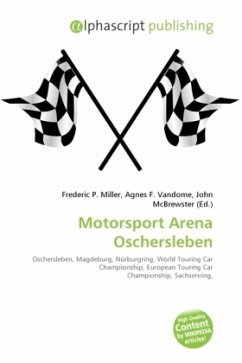 Motorsport Arena Oschersleben
High Quality Content by WIKIPEDIA articles! The Motorsport Arena Oschersleben is 3.667 kilometres 2.28 mi long race track with the width of 11 - 13 meters and elevation changes of 23 metres. The circuit is located in Oschersleben, Börde approximately 30km from Magdeburg, Northern Germany. Its fairly flat contours create a smooth and fast circuit. Inaugurated on 25 July 1997 (still as Motopark Oschersleben) it was Germany´s third permanent race track, after Nürburgring and Hockenheimring. Since then EuroSpeedway Lausitz and the rebuilt Sachsenring were added as a fourth and fifth permanent race track. Motorsport Arena Oschersleben is a traditional venue for F.I.A.´s European Touring Car Championship from 2001 to 2004 and the World Touring Car Championship from 2005. Consistently driving fast is hard work on this fast and smooth circuit. There are key turns to master for a really fast lap. The end of the finish straight is the fastest spot on the circuit. The McDonalds chicane allows for ... (vollständige Produktbeschreibung -> siehe Tabelle unten)
Auf meinen Merkzettel speichern
Bester Preis
Verfügbarkeit:
Bitte beim
Händler
erfragen.
Versand ab 0,00 € Versandkostenfrei innerhalb von Deutschland
Versand ab 0,00 €
Gesamt: 24,99 €
Zum Shop
Preis kann jetzt höher sein.
Verfügbarkeit:
11
Versand ab 0,00 €
Versand ab 0,00 €
Gesamt: 30,05 €
Zum Shop
Preis kann jetzt höher sein.
* Alle ermittelten Preise im Online Preisvergleich verstehen sich inkl. der jeweils geltenden gesetzlichen Mehrwertsteuer (andere Angebote sind im jeweiligen Onlineshop gekennzeichnet). Die Ergebnisse im Preisvergleich verstehen sich gegebenenfalls zuzüglich anfallender Versandkosten. Es besteht die Möglichkeit, dass die im Ergebnis des Preisvergleichs angezeigten Preise seit der letzten Aktualisierung gestiegen sein könnten. Alle Angaben sind ohne Gewähr.
Produktbeschreibung
Motorsport Arena Oschersleben
High Quality Content by WIKIPEDIA articles! The Motorsport Arena Oschersleben is 3.667 kilometres 2.28 mi long race track with the width of 11 - 13 meters and elevation changes of 23 metres. The circuit is located in Oschersleben, Börde approximately 30km from Magdeburg, Northern Germany. Its fairly flat contours create a smooth and fast circuit. Inaugurated on 25 July 1997 (still as Motopark Oschersleben) it was Germany´s third permanent race track, after Nürburgring and Hockenheimring. Since then EuroSpeedway Lausitz and the rebuilt Sachsenring were added as a fourth and fifth permanent race track. Motorsport Arena Oschersleben is a traditional venue for F.I.A.´s European Touring Car Championship from 2001 to 2004 and the World Touring Car Championship from 2005. Consistently driving fast is hard work on this fast and smooth circuit. There are key turns to master for a really fast lap. The end of the finish straight is the fastest spot on the circuit. The McDonalds chicane allows for different racing lines. However, an aggressive line may leads to early retirement with a broken suspension.
Produkteigenschaften
| | |
| --- | --- |
| EAN | 09786131630255 |
| Marke | Alphascript Publishing |